Seattle Mariners CEO Resigns After Making Offensive Comments About Japanese Player
"Wonderful human being, his English was terrible."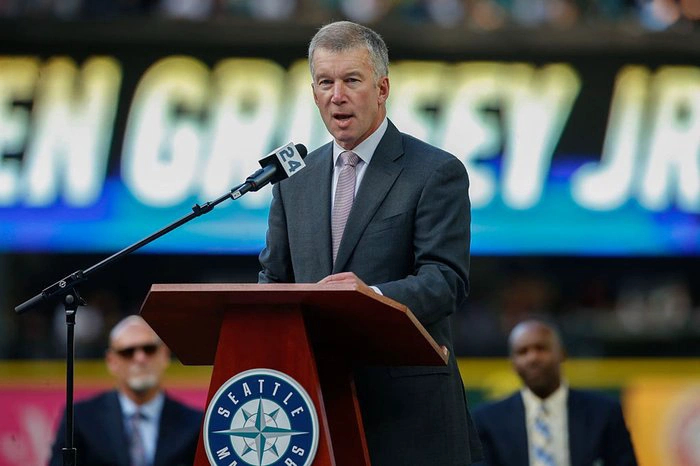 Kevin Mather, President & CEO of the Seattle Mariners, resigned this past Monday over offensive comments that he made white on a Zoom call with a local rotary club, as reported by MLB.com. In the call, Mather spoke about his frustration about having to pay for a translator for Hisashi Iwaskuma, a former All-Star pitcher for the Mariners who's currently serving as a special assignment coach.
"Wonderful human being, his English was terrible. He wanted to get back into the game, he came to us, we quite frankly want him as our Asian scout, interpreter, what's going on with the Japanese league. He's coming to spring training. And I'm going to say, I'm tired of paying his interpreter. When he was a player, we'd pay Iwakuma X, but we'd also have to pay $75,000 a year to have an interpreter with him. His English suddenly got better, his English got better when we told him that," Mather said.
In the same Zoom call, Mather also made comments about highly rated prospect Julio Rodriquez, in which he noted that Rodriquez's grasp of English is "not tremendous." Rodriquez seemed to take offense, responding to the controversy on Twitter.
John Stanton, majority owner of the Mariners, emphasized that the views expressed by Mather in his comments were not shared by the organization, calling his comments "inappropriate" and saying that "we must do and we must be better."
Major League Baseball also issued a statement about Mather's comments, ""We condemn Kevin Mather's offensive and disrespectful comments about several players. We are proud of the international players who have made baseball better through their outstanding examples of courage and determination, and our global game is far better because of their contributions. His misguided remarks do not represent the values of our game and have no place in our sport."