Asian Students Attacked at Beach in San Diego
Violent attack on a group of Asian students over a fire-pit.
On June 15th, Kobe La and his girlfriend, Kristina Castillo, went on a trip to Ocean Beach that quickly turned into a violent scene. As locals of the San Diego Area, they had often visited the scenic location. That day, the couple and their friends decided to hangout at a fire pit that had an unattended, broken chair located nearby according to NBC San Diego. 
Castillo stated that, "From 12 p.m. all the way to 7 p.m., no one came to claim it, so we decided to set up closer." A 35-year old man had then suddenly confronted the group, claiming that the fire-pit and the beach belonged to him. 
"So the guy starts putting his shoulders out, his hands, up and like, 'You wanna go? You wanna go?' He throws his shirt off and starts pounding his chest," Castillo recounted. 
Aggressively demanding that they leave his spot, the group of friends then offered to share. Instead, the man had staunchly refused and threatened to return when it got dark. Two hours later, returning in tow with two other men and women, a fight quickly broke out.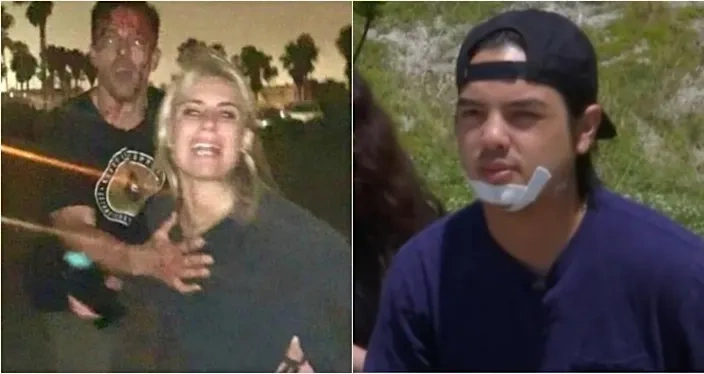 La said, "I was hit more than one time that night, and other people were hit with chairs and other things. It could've been much worse. I could definitely see myself not being here." One attacker had also said that La was "not a local and does not belong here," though as aforementioned, La was raised in San Diego. One of the attackers also stated that, "If you guys are here any later, we're going to shoot all of you." Furthermore, in the videos, one of the women attacking can be heard calling someone "a yellow b----".
The attackers quickly fled after Castillo called the police. Nevertheless, the next morning was when La realized the true extent of his injuries. La told NBC that his jaw was fractured in two places and required three-hour surgery. Four of his other friends were also injured. La was unable to open his mouth and had to rely on a liquid diet for the time being.
La remarks that, "I would say to just be nice to one another. This would definitely not happen if there was more consideration for the people around you". Thanks to the help of social media, three of the five attackers have been identified.
The San Diego Police Department has also been investigating this incident and a spokesperson wrote that "We are aware of the concerns circulating on social media. SDPD takes all hate crime accusations seriously. We are conducting a thorough investigation into the events that transpired. We are asking that anyone who has information or witnessed the attack to step forward. Call Crime Stoppers at (888) 580-8477 or the SDPD non-emergency line at (619) 531-2000."
You can read more about this incident on our AsianFeed Instagram Post.