Fans React to the New BTS x McDonald's Exclusive Meal and Clothing Line
Yup, BTS and McDonald's just teamed up to create the biggest collab of Summer '21, and the Internet is going crazy.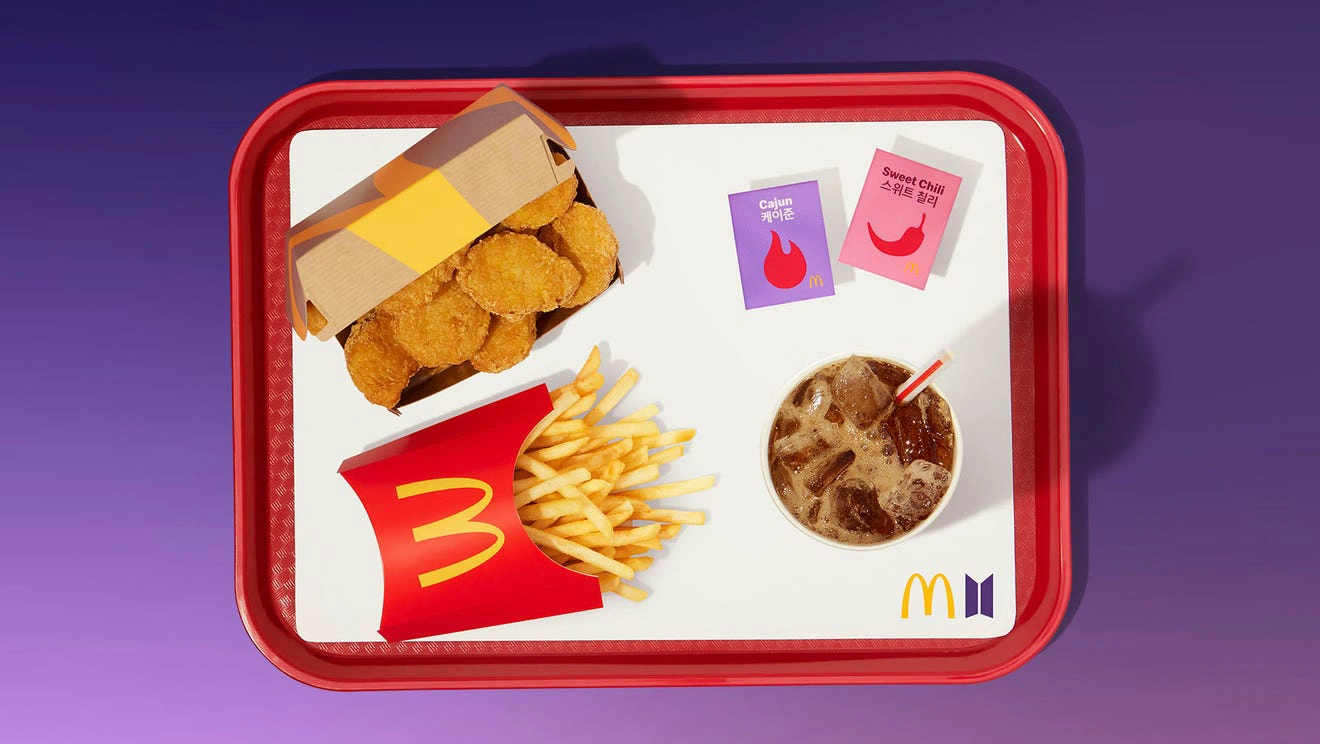 On May 26, 2021, shortly after the release of their new single 'Butter,' BTS launched an exclusive meal and clothing line with McDonald's that features a 10 piece Chicken McNuggets, medium fries, a Coke and limited-edition Cajun and Sweet Chili sauces. The sauces, featuring the words 'Cajun' and 'Sweet Chili' in both English and Korean on their purple and pink labels respectively, are the centerpiece of the new meal and were inspired by South Korean cuisine, according to McDonald's. In certain countries, the box and cup are also purple as an homage to the group's iconic color. Purple became widely associated with BTS after group member Kim Taehyung told fans "I purple you" at a fan event in 2016 as a way to express long-term love and trust.
Additionally, fans can even rep BTS while eating their BTS Meal! BTS and McDonald's also worked together to create a merch line featuring street and loungewear styles with both the BTS and McDonald's logos incorporated into the design. The collection features socks, t-shirts, bags, a baseball cap, an umbrella, a hoodie, a sweatshirt and even a bathrobe, meaning fans can deck themselves out from head to toe in a new BTS wardrobe for the summer. The clothing items can be found on the Weverse Shop App.
Ever since its initial release on May 26th, the BTS x McDonald's collab has completely taken over the Internet. Fans, otherwise known as ARMY, are raving about their favorite music group's arrival at the world's largest fast-food restaurant chain.
However, beyond expressing excitement and purchasing the meals, ARMYs are utilizing creative measures to show their support for the collab by repurposing the disposable packaging of the BTS Meal into usable, long-lasting mementos. Let's check out how ARMYs are getting crafty with the new BTS Meal!
One ARMY, @SaraxBTS7, turned the BTS x McDonald's bag into a cute tumbler cup.
In a similar fashion, @writtenwren on Twitter shared an image of her new phone case, which was made by cutting up the BTS Meal's cardboard McNugget box and putting it into a clear phone case.
ARMY @pmxdmini showed off her DIY skills in creating a BTS Meal-inspired guitar pick so that she can rep her favorite boyband while producing music of her own.
In an impressive display of artistic talent, ARMY @taegisupv on TikTok, turned the BTS Meal's sauce wrappers into a wearable, stylish pair of earrings.
However, others have exploited the immense popularity and craze over the BTS meal to monetarily benefit themselves by reselling parts of the BTS Meal and/or merch line for exorbitant prices. As one TikTok user, @greenteabutwithnogreen, points out, people have been reselling their BTS Meal paper bags on Mercari, an online marketplace, from anywhere from $70 to even $180—even though the original Meal costs under $15 USD.
Another TikTok user, @jellyflan, called attention to how McNuggets from the BTS Meal were being resold on Ebay for hundreds of dollars, writing "IT HASN'T EVEN BEEN A WEEK YET" across the TikTok to highlight how quickly people were trying to profit off of the BTS x McDonald's collab.
In particular, a McNugget claimed to be shaped like a character from Among Us, a highly popular online multiplayer game that became one of the defining trends of 2020, went viral on the Internet after being posted for sale on Ebay. At the time of this article's publication, the 'McDonald's Among Us shaped Nugget from BTS Meal,' as advertised on Ebay, was sold for just shy of $100k USD after an intense bidding war driven by Internet hype drove its price up massively. The fact that parts of the BTS Meal are being successfully purchased at insanely high resale value is a testament to just how dedicated ARMYs are and the ever-growing popularity of BTS across the world.
What do you think of the Internet craze over the BTS Meal? Have you tried it yourself? Let us know your thoughts on Instagram @asianfeed!