An Update on Taiwan's COVID-19 Crisis
Taiwan has been battling a recent surge in COVID-19 cases this past month.
On October 9th, 2020, Taiwan became the only country to have no local transmission cases in 200 days. However, the country has since been battling a recent surge of COVID-19 cases, most of which has come in the past month. Since October 2020, there had been occasional cases, but Taiwan remained open to the general public, with no foreign entries allowed. For the past few months, Taiwan has had a difficult time obtaining vaccinations from other countries due to the country's economic situation and China's lingering regional influence. The slow vaccination rate has also contributed to the surge in COVID-19 cases. 
On May 17th, the country announced that it had confirmed 333 new cases in Taiwan, with 306 of them originating in the Greater Taipei Area. With less than 1% of its population fully vaccinated (the least vaccinated population in Asia), the government decided to shutdown schools from May 18th to May 28th. Additionally, the country announced a "Level 3" alert (out of 4 possible levels) on May 19th to impose further restrictions on the country to prevent further spread.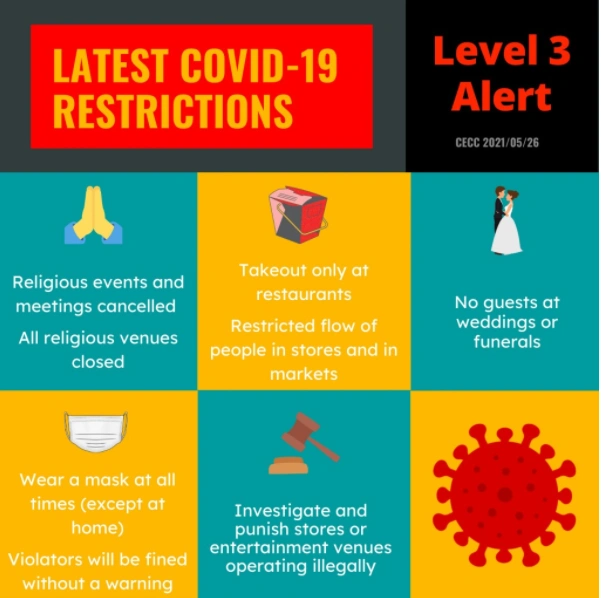 Taiwan News, Venice Tang Images. / com.tw
At level three, all religious venues are closed and no guests are allowed at weddings or funerals. Only take-out meals are available at restaurants and all stores and entertainment venues must remained closed, unless instructed by the government. Most importantly, the mask mandate is still being enforced, as people continue to be required to wear masks in public. Such restrictions and regulations will be enforced until June 14th.
On May 27th, Taipei mayor Ko Wen-je criticized Brent Christensen, an American official that works as the director at the American Institute in Taiwan. Christensen made a controversial statement that implied that Taiwan was not being prioritized for U.S. vaccine shipments. Mayor Wen-je remarked in a press conference later that day that, "If you don't think the situation in Taiwan is urgent, go ahead and go to a hospital and you'll know. How could it not be urgent?" 
Taipei Government Photo / com.tw
To help with vaccination efforts, Taiwan expected 150,000 doses of the Moderna vaccine to arrive from Luxembourg on May 28th. Later that afternoon, the CECC (Central Epidemic Command Center) stated that the Japanese government is planning to provide Taiwan with more vaccines in the coming days. On the 29th, Japan announced that it was in talks with AstraZeneca to send surplus vaccines to Taiwan.
Two weeks out from when the level three alert was enforced, the "R number" for COVID-19 dropped from 15 to 1.02, a positive sign that the outbreak was getting under control. As of June 3rd, there were 364 local cases, most of them being the younger residents, and 17 deaths. The CECC also gave an update that the level three restrictions will most likely not be lifted on the pre-advised date of June 14th, as clusters of infections are still surging in nursing homes and within households.