'Sesame Street' Teaches Children how to Deal with Anti-Asian Verbal Harassment in new song 'Proud of Your Eyes'
'Sesame Street' is empowering young Asian kids around the world, and we love to see it.
On June 23, 2021, Sesame Street released a YouTube video titled "Sesame Street: Proud of Your Eyes Song | #ComingTogether" to platform AAPI stories and voices. The goal of the video is to teach young Asian viewers how to accept their physical features and deal with racism.
The video opens with Alan Muraoka, a Japanese American actor and recurring character on Sesame Street as owner of Hooper's Store, and newly introduced African American Muppet, Wes, making family scrapbooks together.  
A young Filipino American girl, Analyn, approaches them with a look of despair. She explains that a boy had made fun of her by calling her eyes "slanty," a racialized insult often received by Asians and Asian Americans.
Alan and Wes respond with empathy and condolences, reassuring Analyn that she is a beautiful, good person and that the boy was wrong to have described her eyes in that way. "Your eyes are the perfect eyes for you," Alan says warmly.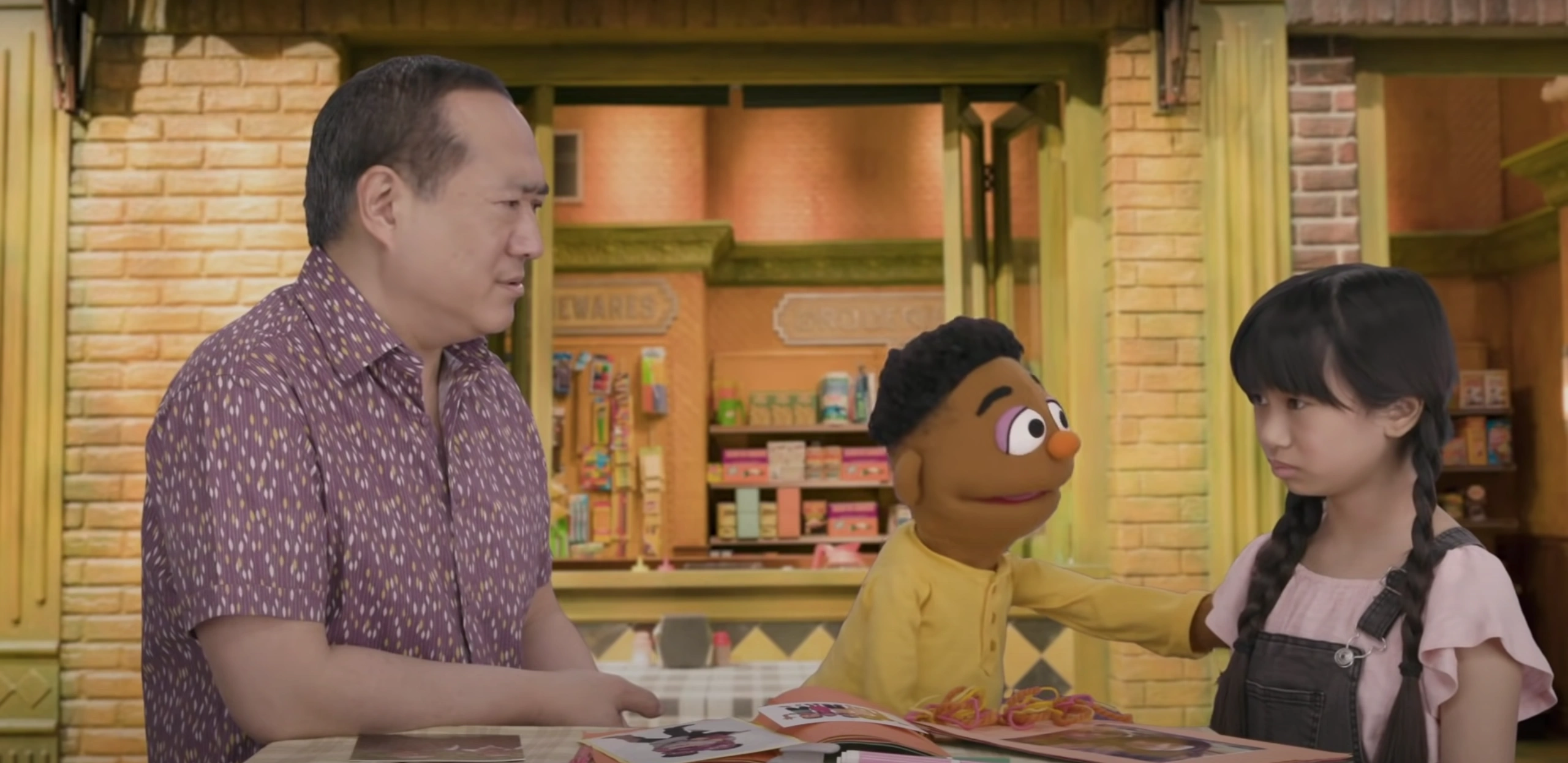 Alan then suggests that they sing a song because he finds singing therapeutic, which segues into the centerpiece of the video: the "Proud of Your Eyes" song. In the song, Alan continues to praise Analyn's beauty and strength of character despite the boy's comment, causing her to perk up and replace her downcast expression with a smile. Alan also continuously connects one's unique physical traits to familial heritage, singing "your eyes tell the story of your family, they show where you come from, and how you came to be." Like the title suggests, the song teaches children to be proud of their eyes and other physical characteristics because they are beautiful no matter what.
After joining in towards the end of the song, Analyn excitedly compares her eyes to her grandmother's, who she finds beautiful, and Alan responds by saying that his eyes are similar to those of his father too.
When Wes joins in to say that his eye's aren't similar to those of his father, Alan is quick to assure him that his eyes "still tell the story of [his] family" even if they aren't an exact paternal match. The video ends with the three joining together in a loving embrace.
"Proud of Your Eyes" is an important video and song for young Asian and Asian American children. While such children are just beginning to form an understanding of their racial identity, they are also experiencing quotidian forms of racism in the classroom. By teaching these children to love themselves unconditionally despite what traditional Eurocentric beauty standards may enforce, Sesame Street takes in vital step toward combatting racial stereotyping. It is also especially crucial to have Asian and Asian American representation in the media so that young Asian and Asian American kids can recognize themselves on screen and feel seen and heard. Sesame Street sets a great example for other TV shows and media outlets to follow in introducing racialized topics at a young age. 
Viewers seem to agree, personally resonating with Analyn through similar experiences: