10 of the Best Korean Popsicles You Need to Try This Summer
🙅🏻☀️🙆🏻🍦
I scream, you scream, we all scream for ice cream!
Just kidding! 🙈 With their unique shapes and refreshing flavors, Korean popsicles are the tasty key to beating the summer heat. If you're unfamiliar with these icy treats, called 하드 in Korean, don't fret! Here is a list of some of the most popular Korean popsicles that you can find at your local H Mart. Some of them might sound a little bizarre, but remember, don't knock it 'till you try it! 😋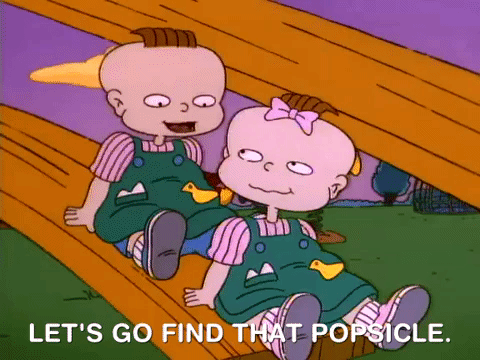 1. Corn Popsicle (찰옥수수)
We know what you're thinking… Corn + popsicle doesn't seem like the most appetizing combination. 🤨🌽🍦But we promise you won't be disappointed! Deliciously smooth corn flavored ice cream (with chunks of corn throughout!) is encased in a corn-on-the-cob shaped wafer and chocolate. 10/10 for creativity, flavor, and design! 🤤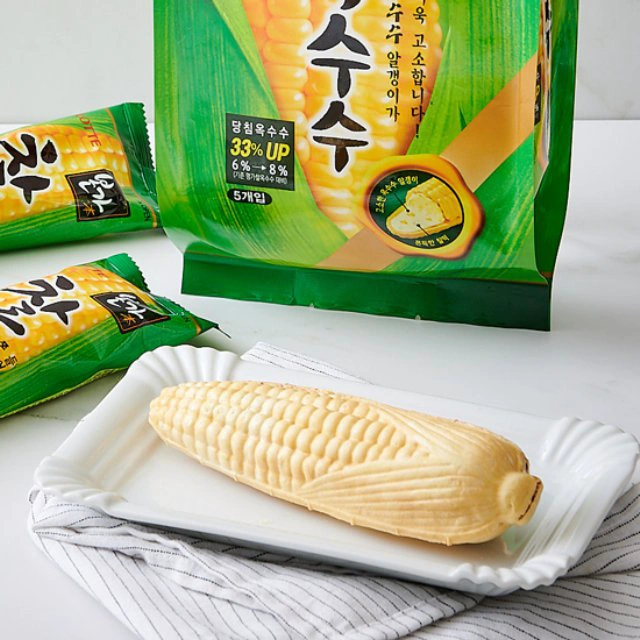 2. Jaws (죠스)
As you may have already guessed, this fun popsicle was inspired by the classic shark horror movie, Jaws! 🦈🍦 The intense orange 🍊& strawberry  🍓flavor works refreshing wonders. No wonder this shark-shaped delight is an all-time favorite in South Korea!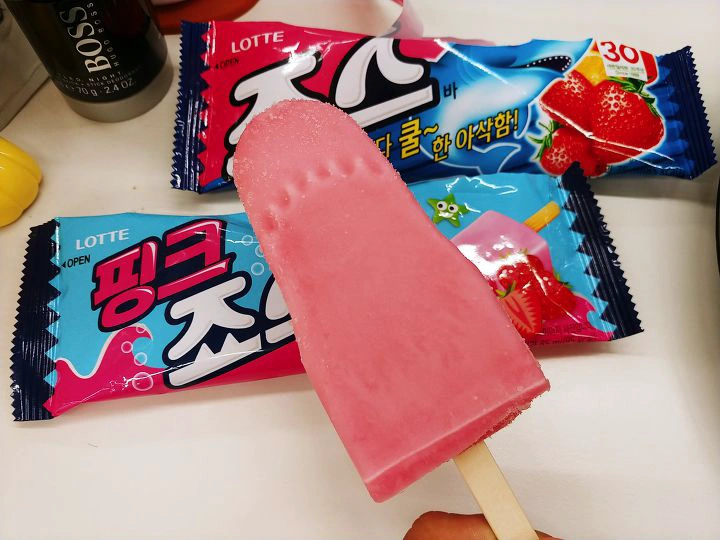 3. Watermelon Popsicle (수박바)
Craving some watermelon to cool yourself down but not feeling like choosing, carrying and cutting a watermelon itself? 😥That's when a watermelon popsicle comes in! Shaped like a watermelon slice on a stick, this popsicle has it all, with a red watermelon layer, a green sour layer, and even small seeds (which are actually chocolate dipped peanuts) sprinkled throughout. 🍉❤️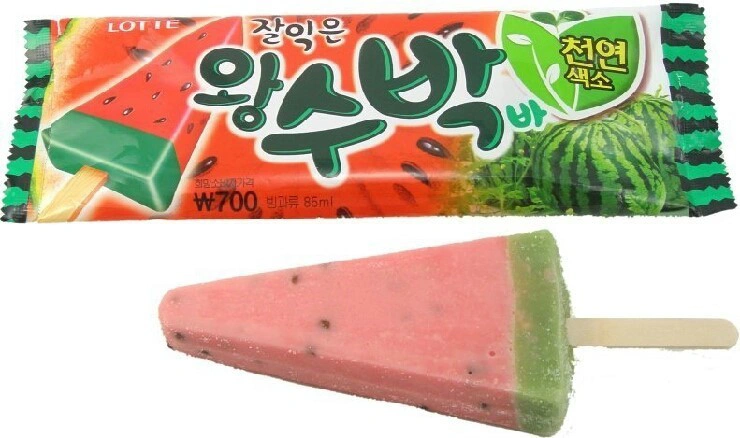 4. Melona (메로나)
Melona is a Korean popsicle classic that, compared to the others, seems a bit more ordinary, with its regular rectangular popsicle shape. But nothing about the flavor comes short of perfection! The OG flavor is honeydew melon 🍈, but they also offer other fruity flavors like coconut 🥥, banana 🍌, strawberry 🍓, and mango 🥭. Choose your favorite fruit (or try all of them if that's how you roll) and try NOT to get addicted to the creamy, milky, and oh-so-sweet flavors, we dare you.
5. Jewel Ice Popsicle (보석바)
If you prefer your popsicles to have a little more chew and a little more crunch, this one's for you! The Jewel Popsicle is a milky ice popsicle with chunky pieces of different fruit-flavored ice embedded within. 🍓🧊Think twice before passing on this one because it's a real gem~ 💎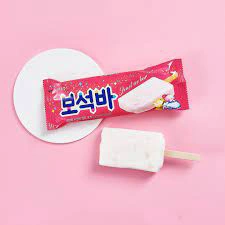 6. Chestnut Popsicle (바밤바)
When we said unique flavors, did you expect chestnuts to be one of them? 😯🌰 These popsicles are a delicious testament to Koreans' love for chestnuts. 😋 Like the Jewel Ice Popsicles that are adorned with fruity ice pieces, the Chestnut Popsicle also contains pieces of sweet and buttery chestnut. If you're a fan of chestnuts, this is a must-taste that should be prioritized on your list!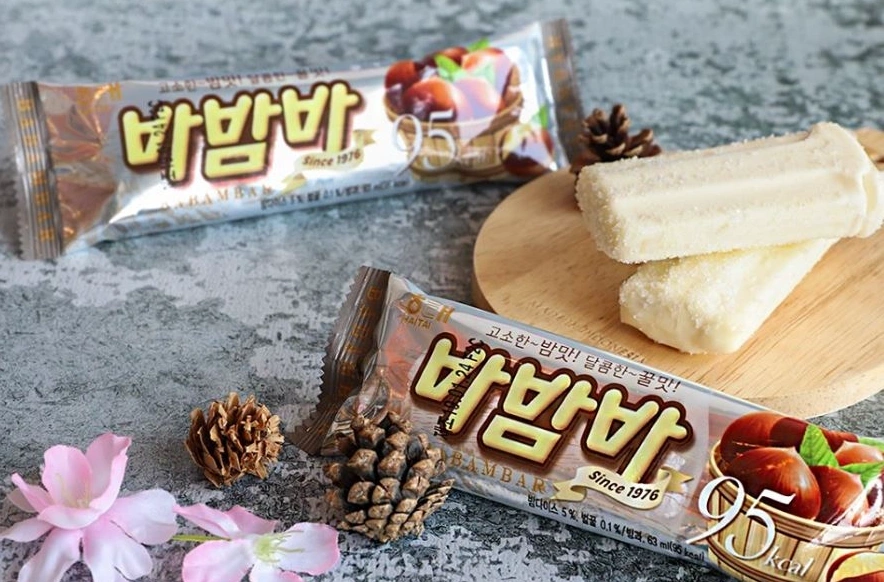 7. B.B.Big Red Bean Popsicle (비비빅)
Another classic, this red bean popsicle dates all the way back to 1975! 😯This OG definitely earns the title of the best red bean flavored ice cream bar because of it's creamy red bean flavor and perfect balance of sweetness. Try the more recent matcha-red bean version as well (it's a perfect match made in heaven)! 🍵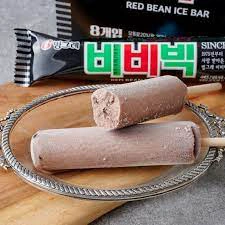 8. Ssang Ssang Popsicle (쌍쌍)
If you're in search of a treat for two, the Ssang Ssang Popsicle is the way to go! This popsicle, which is basically two popsicles merged together, is meant to be split and shared. There are two flavors available- grape 🍇 and chocolate 🍫. The sharing-is-caring memo is cute and all but… but these popsicles are all for me! 😝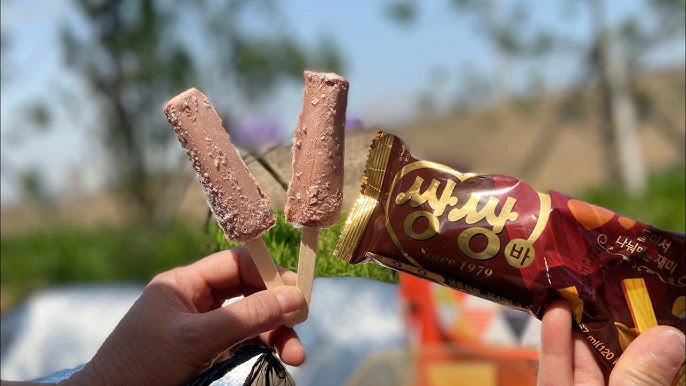 9. Power Cap (뽕따)
Popsicles minus all the drippy mess? Enter the Power Cap! This is an innovative, hassle-free way to cool yourself down. 😋👍🏻All the good stuff is encased in a plastic container. Simply pop the top open and enjoy! Try it out in the watermelon 🍉, banana 🍌, and soda 🥤 flavors!
10. Pig bar (돼지바)
Last but definitely not least is… the Pig Bar! 🐷 While the name itself doesn't sound all that appetizing, one bite of the crunchy chocolate cookie crumble with cold vanilla ice cream and a sweet strawberry syrup filling will have you pigging out on these for sure. 🤤