TikTok Announced The Honorees on Their 2022 Discover List Which Included Global Creators for the First-Time Ever
See the honorees here.
Yesterday, TikTok announced the honorees on their 2022 Discover List, which included global creators for the first-time ever. The list featured honorees in five categories - Changemakers, Icons, Innovators, Foodies, and Originators.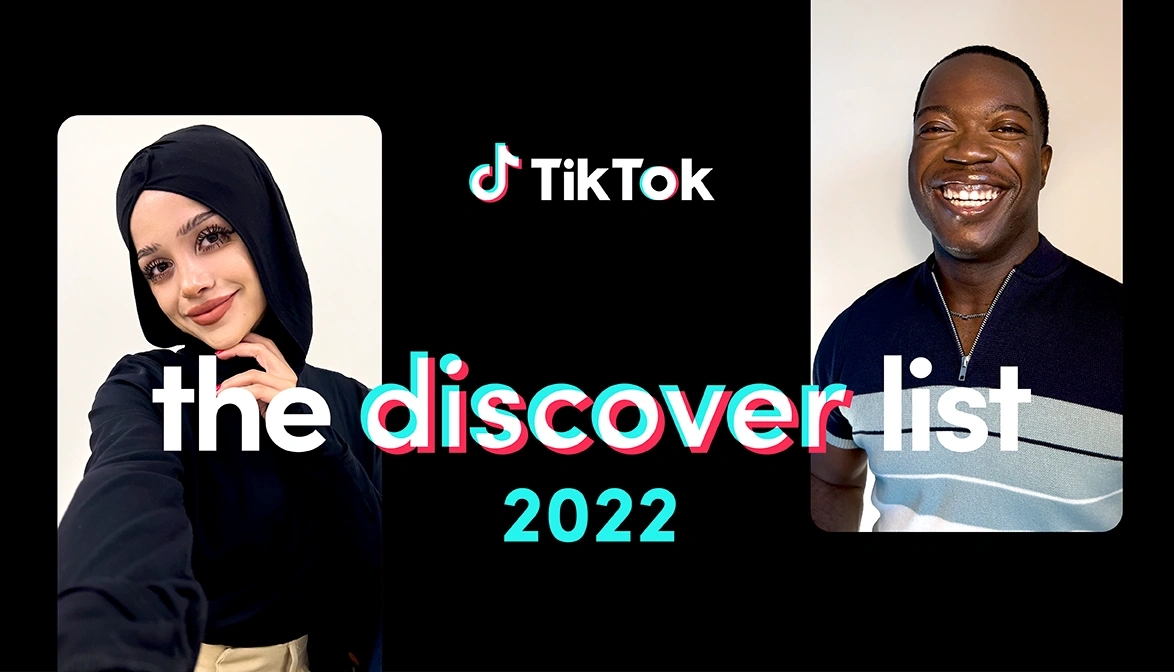 The featured honorees are listed below.
Changemakers
@alitasnim, Tasnim Ali (Rome, Italy)
@aurikatariina, Auri Kananen (Finland)
@dylanmulvaney, Dylan James Mulvaney (California, USA)
@hunterprosper, Hunter Prosper (Pennsylvania, USA)
@iben_ma, Iben MA (Tangerang, Indonesia)
@lima, Osito Lima (Lima, Peru)
@mndiaye_97, Mamadou Ndiaye (New Jersey, USA)
@naomiheartsxo, Naomi Hearts (California, USA)
@ohkairyn, Kairyn Potts (Toronto, Canada)
@sciencewithana, Ana Laura Pacheco (Sinaloa, Mexico)
Foodies
@abir.sag, Abir El Saghir (West Bekaa, Lebanon)
@bayashi.tiktok, Bayashi (Japan)
@cookingwithshereen, Shereen Pavlides (New Jersey, USA)
@daenskitchen, Daen Kelly (Melbourne, Australia)
@dimsthemeatguy, Dimas Ramadhan Pangestu (Jakarta, Indonesia)
@himynameispriya, Priya Sharma (Sydney, Australia)
@mariandcandicee, Mari Monet & Candice Danae (Georgia, USA)
@patriciocarvalho21, Patricio Carvalho (Brasília, DF, Brazil)
@samofrais, Samo Frais (Texas, USA)
@sxmplyNi, Nigel Kabvina (Manchester, United Kingdom)
Icons
@artbydemarcusshawn, DeMarcus Montgomery (Illinois, USA)
@drewafualo, Drew Afualo (California, USA)
@fabiola.baglieri, Fabiola Baglieri (Milan, Italy)
@fannita, Fannita Leggett (California, USA)
@francis.bourgeois, Francis Bourgeois (London, United Kingdom)
@jimmyjan, Jimmy Jan (Newcastle, Australia)
@linhbarbie, Linh Barbie (Thu Duc City, Vietnam)
@nicholas_flannery, Nicholas Flannery (California, USA)
@ox_zung, WonJeong (Seoul, Korea)
@sejsejlija, Cecilia Blomdahl (Svalbard, Norway)
Innovators
@adrianbliss, Adrian Bliss (London, United Kingdom)
@carolineklidonas, Caroline Klidonas (California, USA)
@jarredjermaine, Jarred Jermaine (California, USA)
@justthenobodys, Ryan Omoto & Daniel Omoto (California, USA)
@shahirazlan, Shahira Azlan (Pahang, Malaysia)
@thefashioncouple, Sir Bucks & Janina (Frankfurt, Germany)
@tra.dang.904, Tra Dang (Hai Phong City, Vietnam)
@vikabren.art, Vika Bren (Israel)
@youneszarou, Younes Zarou (Germany)
Originators
@.janmahavan, Jan Trejo (Mexico)
@aidafi3, Aida Fitri (Banda Aceh, Indonesia)
@arri.arii, Ariana Taylor (New York, USA)
@avemoves, Avemoves (Bremerhaven, Germany)
@davidvooo, David Vu (Oslo, Norway)
@icymahree, Amahree Carwise (South Carolina, USA)
@meicrosoft, Mei Pang (Toronto, Canada)
@nianaguerrero, Niana Guerrero (Manila, Philippines)
@poppycooks, Poppy O'Toole (Birmingham, United Kingdom)
@prettyaxme, Prettyaxme (Texas, USA)